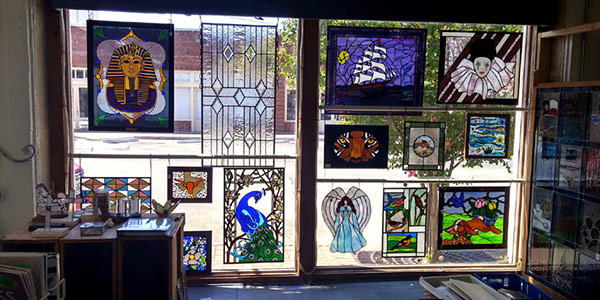 Inspiration Glass Studio Services
Inspiration Glass Studio is proud to be the only full-service stained glass art studio in the Williamson County area. We provide a variety of services to our customers, which include unique stained glass pieces for gifts and homes, stained glass educational classes and stained and fused glass supplies in Williamson County, TX. We are dedicated to providing customers with the highest quality products and services through our one-of-a-kind business. Our professional services include the following:
Handmade stained glass works: Our skilled professionals at Inspiration Glass Studio craft stunning, handmade stained glass pieces, which are available for purchase. Our custom stained glass and fused works include beautiful panels, sun catchers, glass boxes, jewelry, kitchenware and seasonal decorations. These pieces make memorable gifts and beautiful home décor. Additionally, Inspiration Glass Studio creates custom stained glass pieces and offers assistance with supplies for stained glass repairs in Williamson County, TX for customers who are looking for high-quality treatment of their glass artworks.
Educational classes: At Inspiration Glass Studio our experienced team also offers ongoing stained glass classes in Williamson County, TX. Our classes and workshops teach students a wide variety of skills in the art of stained glass cutting, fused glass, jewelry making and mosaics. Each class leader is a local artisan who acts as an important educational resource to participants. Whether students have prior stained glass crafting experience or are complete beginners, our studio has a unique offering for every participant.
Stained glass supplies: Inspiration Glass Studio also offers an extensive selection of stained glass supplies in Williamson County, TX. Our retail products include glass pieces, fusible glass, fusing supplies, specialty tools and books on crafting stained glass artworks. Each of our supplies is handpicked by our business to provide customers with the highest quality support for their stained and fused glass needs.
At Inspiration Glass Studio, we carry the best quality brands to help you with your stained and fused glass projects. Our products are manufactured by notable brands to ensure you have the best tools at your disposal. Brands sold at our location include:
Glass: Spectrum, Kokomo, Wissmach, Bullseye, Asian Imported Fire Dragon, Pilkington, Van Gogh, Architectural Glass (multiple brands available)
Fusible glass and supplies: Spectrum, Uroborous, Wissmach
Specialty tools: Toyo, Inland, Glastar, Hakko, Weller, Morton, Taurus Ringsaws
Books: CKE, Wardell Publications, Aanraku
Through our beautiful stained glass pieces, educational workshops and stained glass supplies, Inspiration Glass Studio is proud to offer a one-stop, full-service art studio to our local customers. For more information on our services, call us at 512-869-6630 today.